Contents
1. Introduction
Today practice management technologies offer multiple issues, from information analytics to booking an appointment. In the 2020 Covid-19 outbreak, the healthcare system worldwide realized the importance of Digitization. Despite multiple challenges in leveraging effective solutions, healthcare providers delivered care via telemedicine, mHealth, and other digital tools.
With most processes becoming digitized and automated, healthcare providers and leaders focus on value-based care. Patient-centric care presumes patients as customers enhance their experiences through automated, digitized services. One of the most needful solutions today for patients is hospital scheduling software. Hospitals today leverage staff scheduling software and other scheduling systems in healthcare to improvise the booking process, simplify it and ensure better care. Nurse scheduling software is crucial for streamlining the workflow and managing the revenue system in hospitals. Scheduling software for hospitals can simplify administrative tasks and improve staff efficiency.
Scheduling software for hospitals in healthcare automation is a specific type of hospital scheduling software that automates medical centers' patient scheduling software systems. Medical scheduling software achieves this by creating a tool to coordinate between providers and patients for appointments via appointment scheduling software. There are different types of scheduling software for hospitals: physician scheduling software, appointment scheduling software, healthcare staff scheduling software, and patient scheduling software.
2. Scheduling app offers several benefits
There are numerous benefits in using a scheduling application for medical purposes. This section lists out some of the most prominent advantages that this type of app offers that will ensure the usability of scheduling apps for healthcare providers.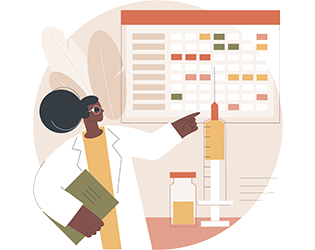 Staff scheduling in healthcare accommodates provider preferences;
Scheduling system provides access to real-time schedule updates anywhere, anytime;
Appointment booking software delivers a centralized request calendar with instant time-off approval;
Medical scheduling software allows easy, online shift changes and adjustments in schedules;
Medical appointment scheduling software enables even shift and distribution;
The patient scheduling system provides scheduling transparency.
A medical scheduling app governs the smooth functioning of daily administrative tasks. The nurse scheduling software improves patient engagement, and automated scheduling software gives the workforce flexibility to choose shift times. Online medical scheduling software can increase patient satisfaction and generate more ROI returns.
Here we have designed a complete guide to scheduling software for hospitals with must-have features, key benefits, potential barriers, and other components empowering the scheduling software for hospitals. Implementing scheduling software for hospitals drives more patients and improves providers' care quality. Find out more about hospital scheduling software here.
3. What is Healthcare Scheduling Software?
Healthcare scheduling software is becoming increasingly popular both among patients and providers. The advantages of using such an app were demonstrated during the pandemic. But what exactly is a healthcare scheduling app? This section explains in detail.
The healthcare industry has revolutionized telehealth, mHealth, cloud-based solutions, and integrated care. However, healthcare networks struggle with administrative tasks like appointment management, patient admission, billing, and claim processing. Manually handling these processes can slow down the entire practice management system and the billing cycle. Nurse scheduling software is crucial for streamlining the workflow and managing the revenue system in hospitals. Scheduling software for hospitals can simplify administrative tasks and improve staff efficiency.
Patients had to wait for hours in traditional appointment booking and travel miles to consult a doctor. However, times changed, technology advanced, and people became smarter. Manual jobs like scheduling an appointment are no longer time-consuming tasks, and Digitization has transformed these manual tasks like scheduling with software solutions in healthcare.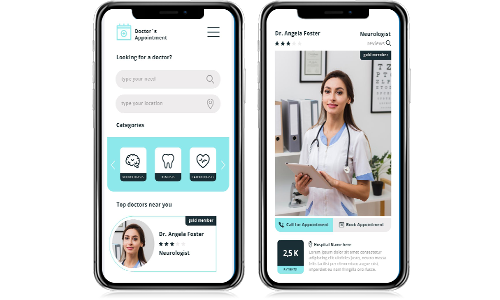 Hospital scheduling software is like a tool that offers patients the convenience of booking an appointment from their homes. Robust scheduling software for hospitals helps patients and providers in multiple ways to utilize healthcare resources perfectly. Moreover, scheduling systems in healthcare boosts revenue, as patients are benefited from time flexibility and other convenience. It improves staff efficiency and operations too.
Considering the pandemic and post-pandemic situation, scheduling software in healthcare is gaining momentum now. And it's expected to become essential in the coming years. People prefer digital tools even in healthcare consultations. From mHealth apps to medication adherence solutions, individuals are willing to adopt new apps and solutions to make their care consultations convenient. Clinical scheduling software offers similar convenience as other patient care apps/software. Even providers opt for nurse scheduling software, physician scheduling software, and other health care staff scheduling software. This software helps providers with seamless and errorless appointments.
Moreover, providers with such scheduling software in healthcare are more relieved about the no-show-ups or sudden cancellations. It's not just patients, but physicians and nurses also get flexibility in their work. Lesser burden, more flexibility means better care and patient experience.
Whether it's patients or providers, scheduling software in healthcare benefits both entities in many ways. These benefits ultimately improve the care quality and ensure enhanced patient-provider relationships. So, if you're planning to invest in hospital scheduling software, opting for customized software is better. Third-party customized scheduling software provides features and components as per health organizations' requirements. And integration to the existing system also becomes easier with skilled IT professionals. So, implement a hospital scheduling system to boost care efficiency and revenue.
4. Benefits of Scheduling Software for Hospitals
A healthcare scheduling application is known to simplify workflows and save time for the administrative staff at hospitals. Such a solution helps them do more with the same resources and improve the patient experience. This section elaborates the various benefits that scheduling software brings for hospitals.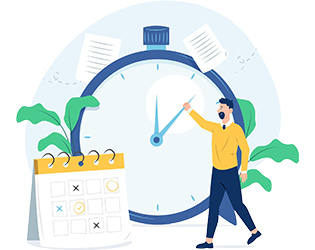 If you're wondering why use appointment scheduling system in healthcare, the answer is simple- it's the best way to include the customers' (patients) requests. Medical booking software can boost healthcare organizations' outcomes. Moreover, if you're still confused about how hospital scheduling software helps providers and patients, here are some top benefits of this software. These benefits will help you understand whether investing in the hospital scheduling software is a wise decision or not.
a. Saves Patients' Time in Appointment Booking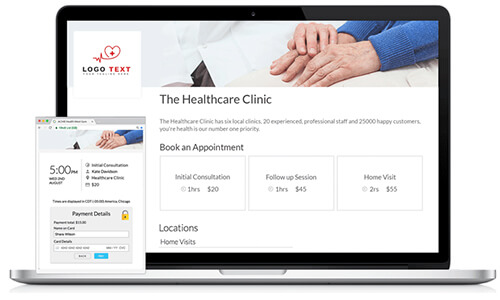 Earlier, in manual bookings, patients spent hours getting an appointment and then spent more time travelling, waiting, etc. However, medical booking software is an intuitive tool that offers features like patient-doctor matching in-sync with the calendar, search requests, time flexibility, and more. The scheduling software's patient portal features help patients save valuable time. So, clinical scheduling software ensures better coordination with providers. And providers can focus more on care delivery.
b. Minimizes No-Show Ups Cases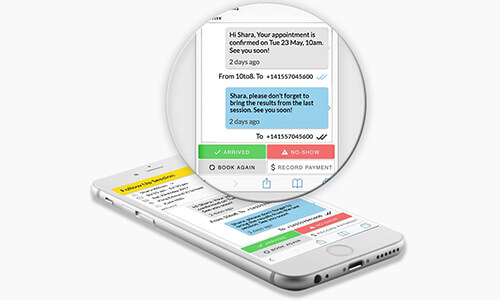 No-show-ups in medical bookings affected providers in many ways. However, the hospital scheduling software with notifications and reminders helps patients remember their appointments, reducing no-show-ups and even saving providers time and cost.
c. Reduces Patients' Waiting Time Online/Offline
Waiting time at providers is a compelling concern of many patients. Scheduling software for healthcare resolves this concern and offers faster consultations to patients, reducing their waiting time, and patients are more satisfied with the care service. Moreover, for patients visiting offline or online, the scheduling software in healthcare can significantly reduce their waiting time in both cases.
d. Ensures better Patient Experience and assures Providers of Patient Loyalty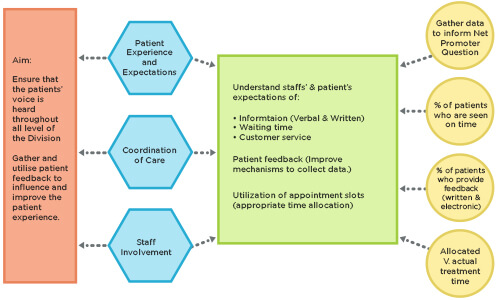 With scheduling systems in healthcare, patients are benefited in multiple ways. Lesser waiting time, appointment reminders, and flexibility are major patient benefits of scheduling software for healthcare. With these benefits, patients are more likely to improve their care experience. Moreover, enhanced patient experience means improved care quality. Scheduling software for healthcare helps providers improve their services and attract more patients. Besides, existing patients with improved care experience will also visit next time. This highlights customer loyalty and trust towards the provider. So, scheduling software in healthcare benefits providers, majorly gaining customer loyalty and trust. And this is an excellent boost to the organizational operations and revenue too.
e. Centralization of Patient Information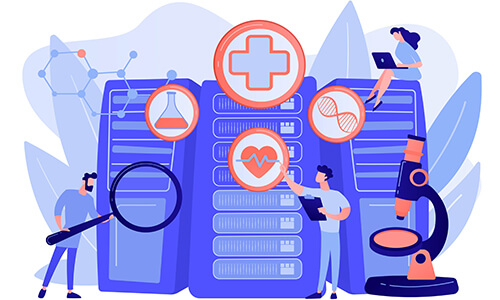 One of the significant benefits of hospital scheduling software is centralization. Clinical scheduling software can easily centralize patient information from the first booking. The scheduling software even collects patients' demographic information, medical history, and payment-related information. This basic information helps providers to ensure enhanced care quality. Moreover, if patients switch providers or change their insurance coverage, the scheduling software automatically updates it. It helps in maintaining schedules across different healthcare centres and doctors.
f. Generates More Revenue and Leads For Business Growth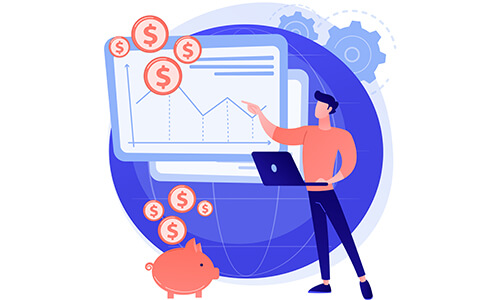 Scheduling software for healthcare boosting providers' revenue is one of the obvious benefits. Healthcare providers implementing medical booking software witness an increase in revenue, as patients can book their appointment at their convenience. Moreover, scheduling software ensures patients receive timely and empathetic care that boosts their experience. Patients gain trust and confidence in the providers, resulting in more lead generation; that means more new patients. This also helps providers increase their revenues.
g. Increases Providers' Operational Efficiency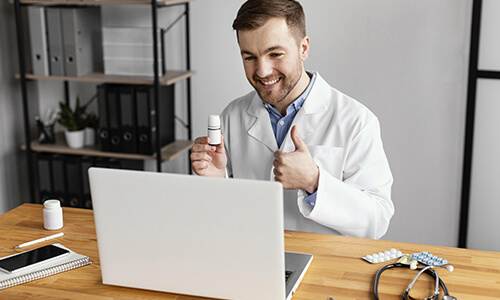 Clinical scheduling software for healthcare helps providers with more time to focus on patients. Keeping track of appointments, calling patients and other administrative tasks no longer requires staff attention, as scheduling software automates these all. And with fewer burdens on staff, they can devote more time to patients. Providers need not worry about cancellation, rescheduling, waiting time, and so on. The clinical scheduling software tackles all these operational limitations. In other words, clinical scheduling software boosts providers' operational efficiency alongside ensuring improved care quality.
h. Improves Healthcare Staff Efficiency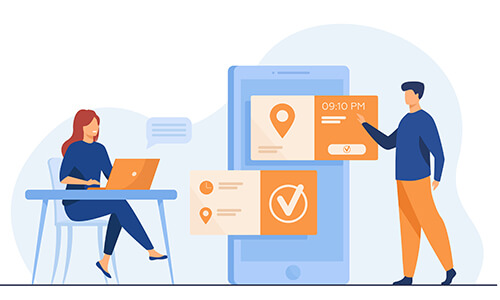 With hospital scheduling software, patients-consumers can book an appointment with the right doctor at the right time. Hospital staff and doctors don't need to spend their time booking, as the software automatically notifies them. So, they save time and can focus on improving the care quality. Moreover, scheduling software also takes care of cancellation and rescheduling. And the staff is left more time to focus on critical and upcoming cases. As a result, staffs' efficiency increases and they become better at managing their work.
i. Enhanced Patient-Provider Relationships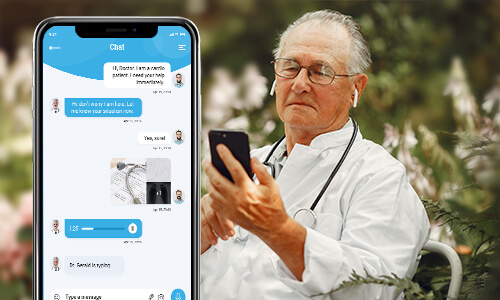 With scheduling software, providers can get deeper consumer-patient insights that can help in improving care services. When patients book an appointment through the scheduling software, providers can collect primary health information to ensure better care delivery. Besides, providers can add more information after the appointment related to patients' consultation and treatments. This information helps providers understand patients' requirements better. And it also allows providers to use this information to boost their business, predict patients' health, and build better relationships with them. Besides this, providers using information from scheduling software helps them improve their relationships with other stakeholders. There's no debate that clinical scheduling software helps providers build stronger customer relationships and personalize their care experience.
j. Offers Total Customization and Flexibility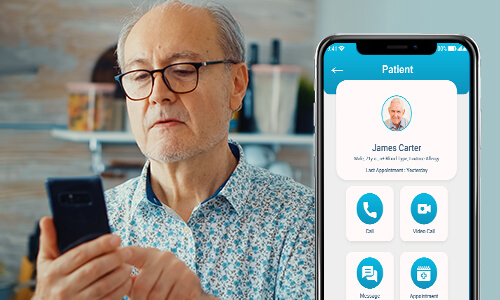 Last but not least- the hospital scheduling system offers complete customization and flexibility to providers and patients. Both entities benefit from the hospital scheduling software, improving their efficiency and expectations, respectively. Since the Covid-19 outbreak, patients' behaviour has changed tremendously. Patients are willing to use digital tools and software solutions, but their needs have changed. Even in telemedicine or online bookings, patients look for better human-to-human connections. So, if you are planning to implement medical booking software, it's a must to customize it per patients' needs. Besides, with the right set of features, patients will get empowered and have control of their health. Apart from customization, the hospital scheduling software offers complete flexibility to patients. As said earlier, clinical scheduling software offers providers work flexibility. Similarly, this scheduling software also offers patients the flexibility of choosing their doctors, time, and mode of consultation. Such flexibility boosts their experience and increases patient engagement in the providers' company.
So, these 10 benefits of scheduling systems in healthcare reveal how this software can completely transform the appointment booking process. Earlier, patients have to call or message providers, wait for suitable doctors, their dates, and more. But it's all easy now with hospital scheduling software.
5. Top 7 Components empowering Scheduling Software for Hospitals
Software solutions that help streamline scheduling activities at hospitals have proven their worth many times over. In this section, we talk about some of the functionalities that have made these solutions indispensable for large hospitals as well as smaller ambulatory care centers.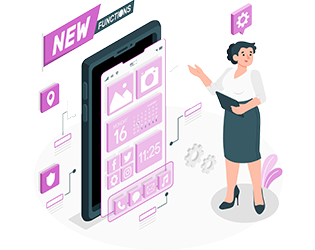 Scheduling software for hospitals is one of the most essential and valuable components of a practice management system. It is also referred to as nurse scheduling software or hospital scheduling systems. Many different components make up an efficient free appointment scheduling app.
Let's look at the best 7 components that healthcare providers must watch while developing appointment software.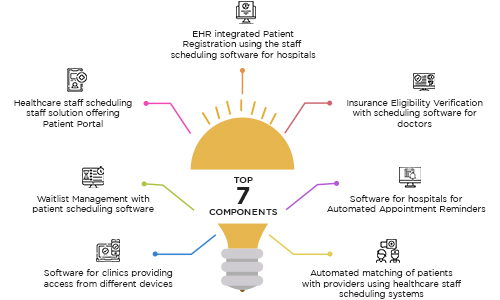 i. EHR integrated Patient Registration using the staff scheduling software for hospitals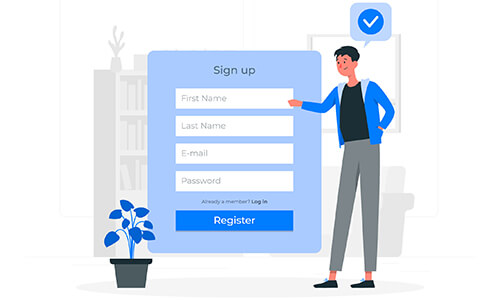 Scheduling software for hospitals offers pre-registration of patients in EHR systems that simplify patient check-in and appointment confirmation. Patient pre-registration through healthcare staff scheduling software is important for improving patient inflow and managing data collection. This scheduling software component for hospitals also simplifies the management of administrative tasks. Patient data collection in health informatics before an appointment during pre-registration enables organizations to create a better patient experience and high patient satisfaction.
ii. Insurance Eligibility Verification with scheduling software for doctors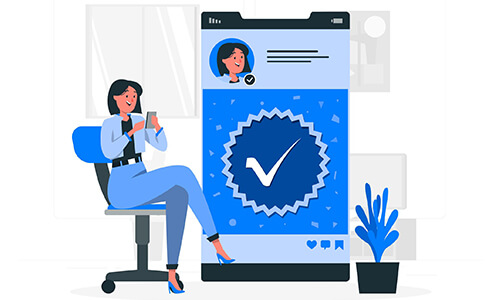 HIPAA-compliant scheduling software for hospitals allows insurance eligibility verification, the first step in the medical billing process. Most claims are denied or delayed due to patients' inadequate or incorrect coverage information during visits and current coverage information not updated by the hospital staff. This lack of or improper insurance eligibility verification directly impacts reimbursements. Non-verification of insurance eligibility leads to several discomforts, such as rework, decreased patient satisfaction, and increased errors. Hospitals' scheduling software provides insurance verification that checks patient insurance eligibility before appointments and performs on-demand checks with a simple click.
iii. Software for hospitals for Automated Appointment Reminders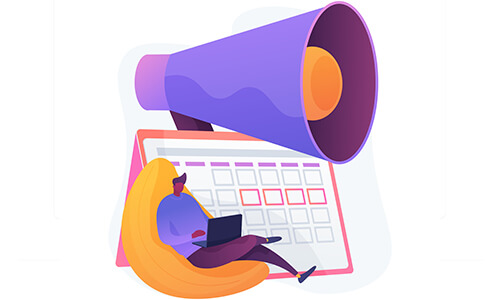 Patient scheduling apps integrated with automated appointment scheduling and payment software generate reminders that eliminate the time spent contacting patients and remind appointments. Automated appointment reminders for a patient scheduling system can greatly reduce no-shows. Reminders for the medical appointment booking system can be customized by email, voice, and text to be sent at different time intervals. Through patient scheduling software systems, Appointments can be synced with calendars, email, and more applications. Patients can receive notifications via emails or text messages reminding them of their appointments.
iv. Automated matching of patients with providers using healthcare staff scheduling systems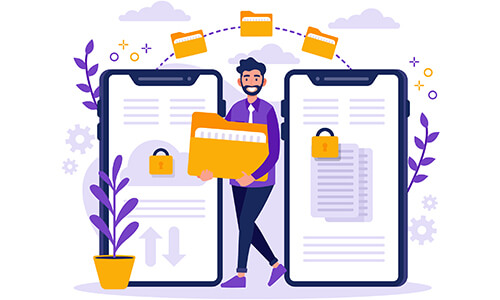 A major issue in the secure exchange of electronic records in the patient data matching strategy is to ensure accurate and efficient matching of patients and their health data. In traditional systems, patient matching with physicians is performed manually, which can be time-consuming and susceptible to errors. A scheduling management app saves time and helps align patient needs with physicians who address the issues. Scheduling and payment software can automatically match patients with the right providers based on diagnostic and treatment types. In this way, staff scheduling software can match patients with best-suited clinicians and improve population health management.
v. Software for clinics providing access from different devices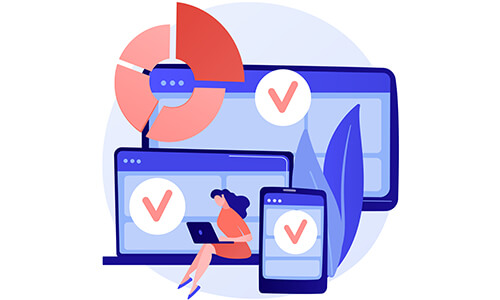 Missed patient appointments can cost the U.S healthcare system billions of dollars each year. No-shows and cancelled appointments can be a huge expense, and therefore, need to be avoided. Mobile access is a crucial component of scheduling software for hospitals. Access from devices in scheduling software ensures that providers can access the software anywhere and allows them to receive updates on schedule changes and notifications on their mobile devices. Accessibility of scheduling software for hospitals from any device improves flexibility and communication between patients and providers, benefiting collaborative care and overall health analytics.
vi. Waitlist Management with patient scheduling software
Appointment scheduling software for hospitals requires waitlist management, which enables them to allot patients' appointments earlier and fill last-minute cancellations. Waitlist management in medical scheduling software organizes waiting patients, gets them to see physicians earlier. In this way, hospital staff scheduling software can lower waiting times and increase physician utilization. Automated waitlists in scheduling apps enable providers to fill gaps in their calendars without phone calls. Patients can respond to the waitlist outreach text if they are interested. Once an appointment is booked, scheduling hospital software notifies the physician and updates the system. The waitlist component of patient scheduling software can reduce phone calls and manage slots in the provider's schedule.
vii. Healthcare staff scheduling staff solution offering Patient Portal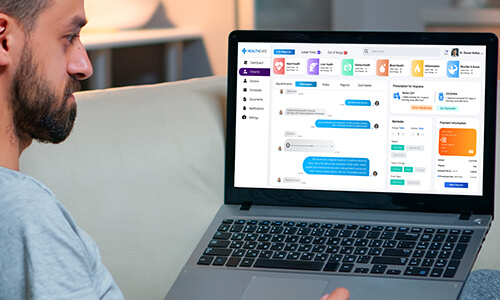 Physician scheduling software offers a patient portal, which is the access point of the scheduling system for patients. This scheduling software component for hospitals allows patients to enter the portal and manage their appointments. Patient portals also enable patients to access lab results, test reports, and other essential medical records. Healthcare staff scheduling software provides a robust, user-friendly patient portal compatible with mobile or android devices. It is a secure web-based service that promotes better communication between patients and providers.
6. 10 Must-Have Features in Scheduling Software for Hospitals
If you're an administrator at a hospital who wants to implement a scheduling software, it could get difficult to make decision since there are numerous solutions offered by multiple companies. But there are a few features that are must-haves for every healthcare scheduling software. This section discusses some of them.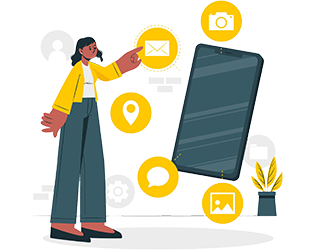 Implementing the hospital scheduling software is not an uphill task, and Healthcare companies can successfully develop the software with the right IT vendor and tech support. Although it's best to choose features of the scheduling system of healthcare as per organizational requirements, there are some common ones. These common, key features are quite effective for all healthcare companies. In addition to these key features, providers can add other aspects to boost their operations, patient experience, and quality of care. Here are the 10 must-have scheduling software features for hospitals that you can surely include in your software.
a. Two-Way Calendar Sync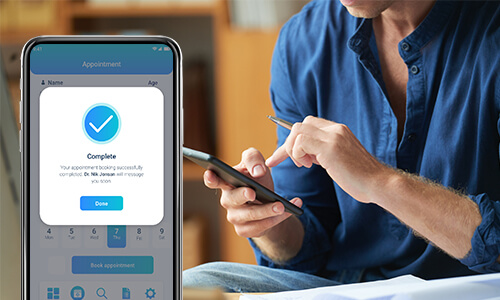 There's no debate that hospital scheduling software helps patients with hassle-free appointment bookings. Hospital scheduling software with a user-friendly interface makes booking easier. However, what makes it more convenient is syncing this hospital scheduling software with your calendar. Typically, patients using an appointment scheduling app or booking through the patient portal of the scheduling software benefit from this feature. Two-way sync with the calendar eliminates issues like double booking. Besides, syncing the calendar with scheduling software enables patients to get a confirmed appointment. Moreover, providers are also less stressed with double or incorrect bookings. So, hospital scheduling software developers must consider this feature to improve the functioning of this appointment scheduling app or software.
b. Attractive User Interface/ Booking Page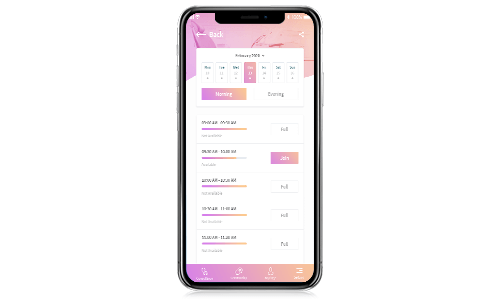 Today, attracting new patients isn't an easy job. With numerous scheduling apps available, providers find it confusing to get new patients. Consumer-centric apps or software needs to consider a major aspect- an attractive interface or web page. A user-friendly interface or attractive booking page in hospital scheduling software can bring in more consumers. Moreover, the hospital scheduling software must offer every patient a separate booking page. This will allow patients to book their appointment without any hassle. With the right set of inclusions in the software, patients can easily book their appointment with a specific doctor based on availability. Besides, the additional attraction of this scheduling software would be colour customization, compelling information related to their conditions, messaging, and more. These inclusions will attract more patients to the providers, boosting its business. Also, this booking page can turn more eye-catchy with useful and effective content. So, providers willing to implement hospital scheduling software must include this feature to grab the attention of more patient consumers. And assure them of an enhanced appointment scheduling experience.
c. Notifications and Reminders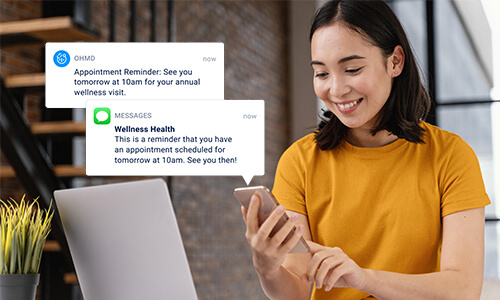 As said earlier, hospital scheduling software makes appointment booking easy for patients. This feature of automatic reminders and notifications related to upcoming appointments is an added advantage. Once the patient books an appointment, the hospital scheduling software ensures that the patient gets email/text confirmation. Moreover, before the upcoming appointment, the scheduling software even sends reminders via SMS or email. The inclusion of this feature benefits both providers and patients, and it helps providers reduce no-show-ups and ensures that patients don't have to wait long for their consultations. So, automatic notifications and reminders in medical booking software are must-have features that can positively impact their providers' operations and boost their care efficiency.
d. Work Hours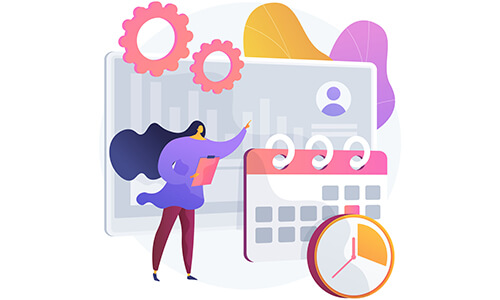 Doctors and staff in healthcare organizations have strenuous work hours. Especially after this pandemic, their work pressure and timings have changed drastically. And this resulted in low retention of staff in care organizations. Providers have solutions like physician/nurse scheduling systems that ensure flexibility in their work hours. Similarly, the hospital scheduling software must also include work hour settings. It shows patients the list of available doctors and the work timings of others. This makes appointment scheduling more convenient. Patients need not call or email to confirm the availability of doctors. Everything is mentioned on the scheduling software. So, patients can get the appointment of specific doctors as per their work timings. Providers remain hassle-free, and so do their patients with this feature.
e. Online Appointment meetings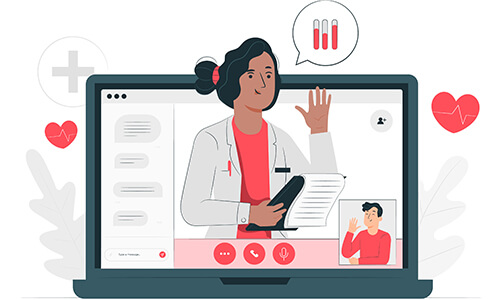 Today telemedicine/mHealth is gaining momentum, and patients also prefer consultations from the comfort of their homes. Adding this feature of online appointment meetings to the hospital scheduling software is a smart move. Offering online consultations will reduce the work pressure of providers, and patients will get timely access to care. Since many non-critical cases can be handled offline via voice or video call, hospital scheduling software or appointment booking app must integrate this feature. It is like integrating telehealth into scheduling software to ensure a better experience for patients. Besides, the medical booking software must automatically send the meeting URL to patients to avoid confusion and mistakes on booking appointments. With this feature, patients also get flexibility, as they can get same-day appointments and consultations. Apart from this, the clinical scheduling software developers must ensure that it is integrated with video meeting applications like Google Meet, Zoom, etc. So, as a provider, assure your patients a better scheduling experience with this feature and, of course, boost your outcomes.
f. Integration with Other Apps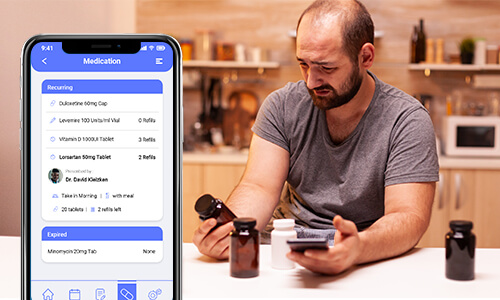 Scheduling systems in healthcare can be customized as per providers' and their patients' needs. However, making the software compatible with other applications or software increases its efficiency. Healthcare providers offering other services through software or applications can integrate this hospital scheduling software to ensure all-around service. Moreover, patient-users benefit as this integration can automate many tasks around appointment booking. As a result, the manual efforts are reduced, and the needs of patients are met faster than usual. For example, providers have telehealth, remote patient monitoring, or pharmacy/medication adherence apps with this hospital scheduling software to ensure better care delivery. Moreover, such integration will make appointment booking, consultation, and treatment more effective.
g. Team Scheduling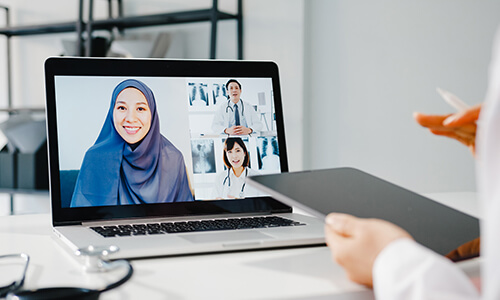 Think about manually assigning patients to different staff or physicians! It requires too much time and effort. Also, healthcare providers incur additional costs in manually assigning tasks to the team members. However, scheduling software in healthcare mitigates the problems of manual assignment. It completely automates tasks assigned to the different staff members as per their work timings and availability. Scheduling software also ensures that staff and doctors get equal opportunities and no one is burdened with too much work. That means the software automates the equal distribution of work to increase the productivity of the doctors and staff. Besides, healthcare providers in recent times are strategizing to retain its staffs due to excessive work pressure resulting from the pandemic. So, this feature in the clinical scheduling software boosts overall productivity and helps providers retain their staff. And productive and loyal staff means better quality of care.
h. Varied Service Bookings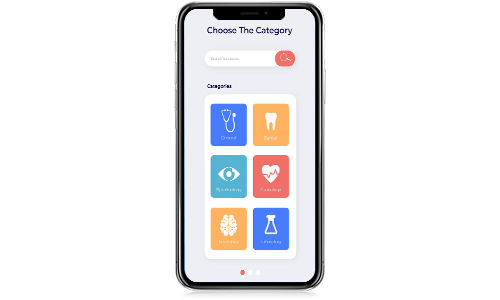 Patients approaching providers have varied needs. Some patients might be chronically ill, and some need urgent care. Care providers integrating hospital scheduling software must understand this part of patients; no two patients' needs are the same. So, the hospital scheduling software also needs to comply with this requirement to ensure its effectiveness. The scheduling systems in healthcare must offer varied service booking options to patients to boost their business. Whether the patient wants regular check-up for its chronic condition or require just a one-time appointment, the scheduling software for healthcare must have options for all. Apart from that, providers must also ensure that just consultation isn't enough. Patients often require help in medication management and so on. And keeping options related to these can also boost providers' services. So, including varied service booking options as a feature in the hospital scheduling software is a great way to enhance providers' patient-centric services.
i. Payment Options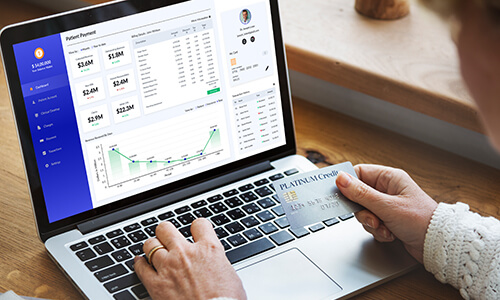 Payment is one of the major aspects of healthcare appointments and consultations. Typically, providers face many issues related to payment failure, denials, and delays. However, automating this process with effective options for payment can resolve many of these issues. And in the hospital scheduling software, including adequate payment option features will help providers get their money faster and more accurately. Moreover, today is the time of online/digital payments. Those days are long gone where patients had to send checks, or their insurance companies did so. Now, providers can directly collect the payment from the insurers or integrate digital payment apps with the medical booking software for easy collection. So, whenever a patient books an appointment, the scheduling software automatically notifies patients' insurance companies or directs patients to the integrated digital payment mediums. Above all, IT leaders suggest that including this feature in the scheduling systems of healthcare can boost providers' revenue and cut down its losses.
j. Canceling/ Rescheduling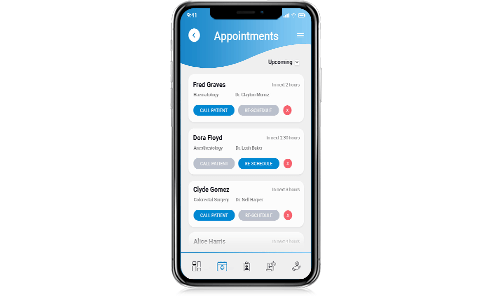 The last feature that all healthcare scheduling software must include is the cancel and rescheduling feature. Patients might come across some errands or issues after booking an appointment. So, offering them the option of cancelling and rescheduling makes it convenient for them to access care service irrespective of their other works. Moreover, this feature in the hospital scheduling software is a great way to enhance the patient experience.
7. Potential Barriers in Implementing Scheduling Software
The benefits offered by healthcare scheduling software have made them highly coveted by hospitals as well as small single-physician practices. However, there are a few challenges when it comes down to having one implemented at a healthcare organization. This section outlines some of those difficulties.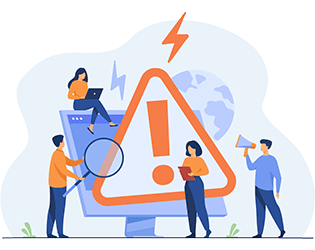 Several providers willing to implement hospital scheduling systems are affected by some major roadblocks. Providers can always overcome these barriers with effective strategizing. So, before you initiate the implementation process of hospital scheduling software or healthcare staff scheduling software, analyze the potential barriers first. This will help in successful implementation. And here are the four major barriers to implementing hospital scheduling systems.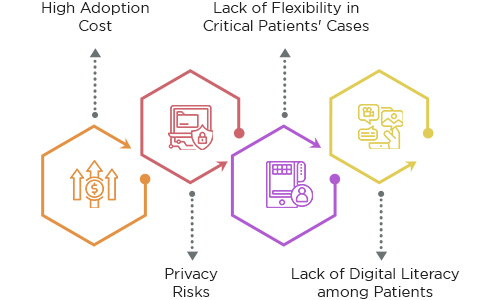 i. High Adoption Cost
Although healthcare scheduling systems boost ROI and contribute to providers' funds, its implementation requires money too. The initial expense of implementing the hospital scheduling software poses a roadblock to several providers—healthcare providers integrating this software experience challenges due to their budgetary limitations or lack of savings. So, the high adoption cost is undoubtedly the biggest barrier in implementing the hospital scheduling software.
ii. Privacy risks
Any software or applications' implementation is affected by some common issues, including privacy threats. Privacy risks also threaten healthcare providers trying to implement hospital scheduling systems. Patients using this hospital scheduling system need to provide personal information for booking their appointment. So, providers are skeptical about implementing such software due to increasing security and safety fallouts.
iii. Lack of Flexibility in Critical Patients' Cases
Automated scheduling systems in healthcare aid providers in improving their efficiency. However, the barrier is the lack of flexibility in addressing critical cases. Medical booking software must be flexible to address those cases that are not pre-defined in the system. Moreover, this problem increases due to the lack of human control in the software. However, developers and providers must embed more flexibility and critical thinking in the clinical scheduling software to ensure better outcomes.
iv. Lack of Digital Literacy among Patients
Last and one of the most critical barriers in implementing the hospital scheduling system is the lack of digital literacy among patients. Although patients are gradually getting acquainted with smartphones and computer handling, the problem lies with the senior population. Handling the hospital scheduling software requires some basic computer/digital knowledge to ensure that patients choose the right booking options.
Conclusion
Patient satisfaction and patient experience drive the success of healthcare services. These are governed by organized health networks where patients have minimum or zero waiting times, get appointments quickly, and communicate with providers. Scheduling software for hospitals manages all these through its various components.
Insurance verification with EHR ensures that patient details are checked beforehand to avoid delays. Appointment reminders reduce patient cancellations and no-shows and wisely utilize the physician's time. Similarly, appointment management and waitlist management handle the inflow of patients. Patients no longer have to wait for long durations, and doctors can have a continuous flow of patients through an automated system in scheduling software for hospitals. A patient portal is another great component in a scheduling system, and it enables patients to interact with doctors and manage their appointments through interoperable systems. When you look for patient scheduling software, make sure to look for these 7 key components. They will ensure the efficient functioning of your medical scheduling software, promoting productive staff and high revenue generation. Automated scheduling software consisting of these 10 must-have features will result in high patient outcomes and patient engagement.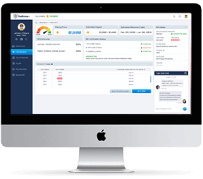 How can we help?
Fill out the short form below or call us at (888) 846-5382
Looking for software solutions to build your product?
Let's discuss your software solutions for your product in our free development acceleration call!
Get In Touch arrow_forward
About Author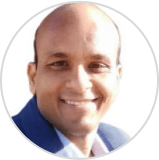 Written by Riken Shah
Riken's work motto is to help healthcare providers use technological advancements to make healthcare easily accessible to all stakeholders, from providers to patients. Under his leadership and guidance, OSP Labs has successfully developed over 600 customized software solutions for 200+ healthcare clients across continents.